Sunlight is the major source of light transmission in the ordinary binoculars, so with the sun going down (at night) the chances of hunting also go down if you only possess ordinary binoculars.
To cope with this difficulty and extending the time of hunting to the night, night binoculars were designed. These binoculars are specially designed for low-light situations to help you do your late-night activities. Finding a good pair of binoculars can be very hectic. So, here we have reviewed some of the best binoculars for you so that you can hunt with 100% accuracy.
If you love to hunt during daylight than we have also had a fresh list of  best hunting binoculars for deer, elks.  etc. Must check it out!
Generations of Night Vision Binoculars

Generation 1
The first generation of the night binoculars which was made available to the customers was generation 1. Generation 1 night binoculars are usually suitable for long-time and consistent use. These binoculars come in a low price range and are generally considered best for wildlife observation. But they usually have low resolutions and less visual range.
Generation 2
Generation 2 night vision binoculars are more advanced than Generation 1. They have great clarity and more brightness in their images thanks to the inclusion of the microchannel plate. These binoculars have a wide range of almost 200 yards. So they prove to be very useful for professional use.
Generation 3
Generation 3 night vision binoculars provide pictures with much-improved clarity and brightness. They perform very well in low-light situations and their battery life is quite amazing. Usually, these binoculars are used by the US military's combat armed forces. They feature a magnificent field of view of 300 yards.
Generation 4
Generation 4 night vision binoculars are the most advanced night vision binoculars. They are produced in a limited amount. They offer ultimate bright pictures with the highest clarity. Their performance in low light situations is above all. Generation 4 night vision binoculars are the most expensive binoculars of all generations.
Night Vision Selection Criteria
Image Quality
The most important feature to care about in night vision binocular is image quality. High-resolution binoculars usually provide the best image quality.
IR Illuminators
Infra-red illuminators enable night vision binoculars to perform in low light scenarios. These illuminators amplify the light of the surroundings by using an invisible portion of the light spectrum. This is the second most important feature to look in a night vision binocular.
Magnification & Field of view
Magnification and field of view are the two features which are opposite to each other. Increasing magnification reduces the field of view. These features are titled as "zoom-in" and "width of visible area". Binoculars with higher magnification and a wider range of field must be preferred when buying.
Focus
Along with high magnification and a wide field of view, a good night vision binocular must be able to focus distant objects.
Night Vision Binoculars Price Range
Less than $500: Generation 1 binoculars for casual use can be bought for less than $500.
From $500 – $1,000: For advanced use (usually Generation 2), a good pair of night vision binoculars can be found in the price range of $500 to $1000.
More than $1,000: For night vision binoculars of premium quality more than $1000 will be needed. Usually, Gen 3 and Gen 4 models are found in this price range.
Best Night Vision Binoculars Compared
| - | Best Overall | Best for Money | Best Cheap |
| --- | --- | --- | --- |
| | | | |
| Product | Sightmark Ghost Hunter Night Vision Binocular | Night Owl Pro Nexgen Night Vision Binocular (3X) | Aurosports 10x25 |
| Magnification | 2x | 2x | 10x |
| Resolution | 36 lp/mm | 35 lp/mm | 25 lp/mm |
| FOV (degree) | 25 | 19.7 | 6.9 |
| Range of focus | - | 70 ft/200 ft | 362 ft/1000 yards |
| Diopter adjustment | ±5 | - | - |
| Weight (oz) | 14.1 | 25 | 8.8 |
| Dimensions | 136 x 113 x6 0 | 6.65 x 5.85 x 2.70 | 2.1 x 3.7 x 3.6 |
| Power Supply | 3V | 3V | - |
| Battery Life (Hours w/IR and w/o IR) | 20/70 | 40/80 | - |
| Cost | $330 | $480 | $33 |
| - | | | |
6 Best Night Vision Binoculars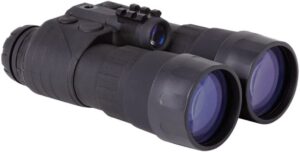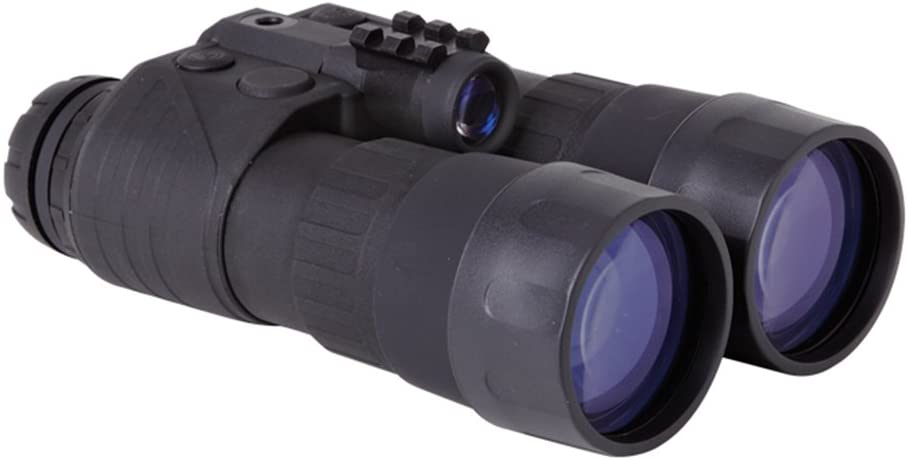 These lightweight night vision binoculars come with a composite structure which enhances their durability significantly. Sightmark Ghost Hunter Night Vision Binoculars are known for their perfect ergonomic design and quick power-up. They can be mounted on a tripod stand and can be held easily in hand due to their lightweight.
An integrated IR illuminator contributes to low-light performance. These binoculars boast a field of view of 26 meter@100 meter. They have a good pair of batteries with 70 hour operating time without IR activated and 20 hours with IR activated.
 Highlighted Features 
Integrated IR Illuminator: For low light situations integrated IR illuminator is provided in these binoculars.
Auto Shut-off on Bright Light Exposure: These binoculars possess the capability to turn off in bright light situations. This feature reduces battery usage and enhances battery life significantly.
Durable Polymer Construction: Polymer construction gives these binoculars extended durability and perfect ergonomics.
Carry Case: These binoculars come with a carry case.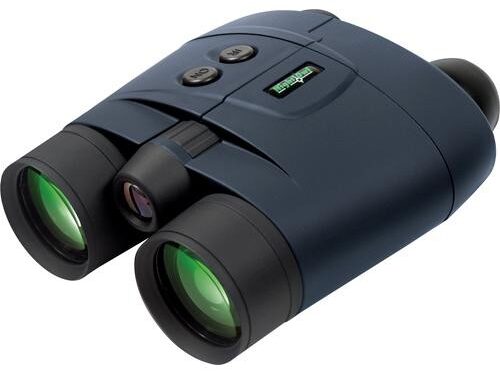 Night Owl Optics NOB3X 3x Mag Night Vision Binoculars give true binocular vision with a 3-dimensional perception of depth. They have two 1st generation intensifier tubes which enable them to do that. An integrated infrared illuminator enables observations in extremely low light.
These binoculars feature an objective lens of 42mm and 3x magnification. A wide 19.7° wide angular field of view is obtained by these binoculars. The rubber-armored body gives a non-slip grip. These binoculars also come with waterproof ability.
 Highlighted Features 
Adjustable focus: Focus can be adjusted easily with the central focusing mechanism.
Image intensifier tubes: Two high-quality Generation 1 image intensifier tubes are provided to give high-quality images.
Infrared illuminator: Built-in infrared illuminator is provided in these binoculars for use in complete darkness or to improve target recognition in any environment.
High-quality glass: Objective lenses of high-quality glass are provided in these binoculars.
Rubber armouring: Soft-touch rubberized armouring enhances the user's comfort and gives a non-slip grip.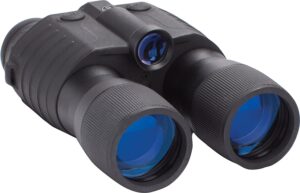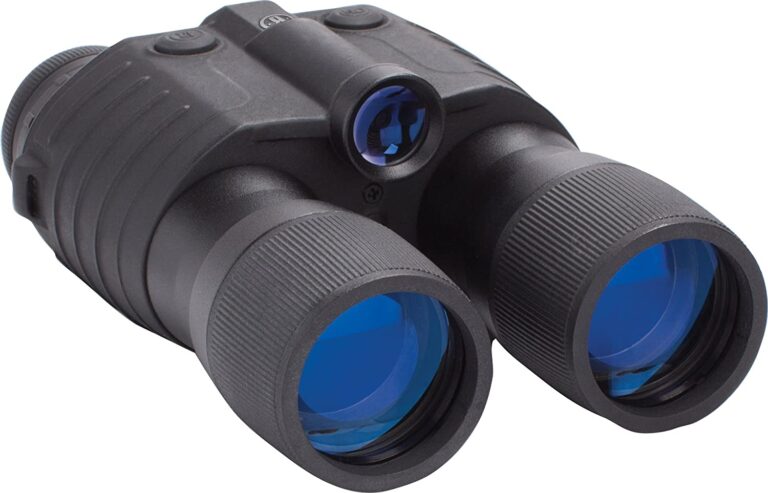 These binoculars have 2.5x magnification and an objective lens of 40mm. With quality optics, Bushnell LYNX Gen 1 Night Vision Binocular provides images with stunning HD clarity. The perfect ergonomic design and enhanced durability make these binoculars more attractive to users.
An integrated infrared illuminator gives a low-light performance. With long-distance viewing up to 90 yards, these binoculars also have weather resistance capability. The glass lenses are AR coated.
 Highlighted Features 
HD lens quality: These binoculars give HD quality images with their well-integrated glass optics.
Built-in IR: To use the binoculars in low-light built0in infrared illuminator is provided.
Battery Life: These binoculars have amazing battery life.
Great viewing distance: These night vision binoculars have a great viewing distance of 750 feet.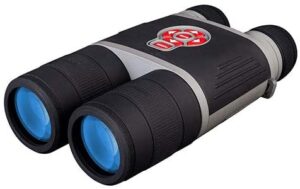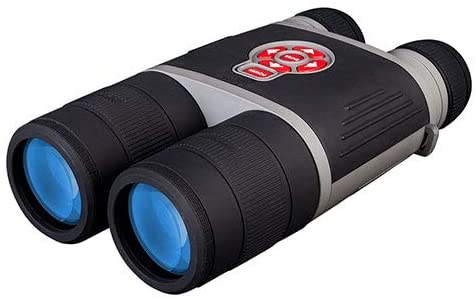 These binoculars perform equally well in both day and night. With amazing brightness and sharpness, these binoculars also provide colour perfect images. The BinoX-HD lens gives non-blurry images in every condition. It has a built-in smart range finder that allows the user to find its target without carrying additional equipment.
This binocular also has the capacity to record images and videos of HD quality with wifi streaming to a mobile phone or a tablet. It offers the fastest and most powerful processor used for a binocular, which makes video streaming smooth and enjoyable.  It has an angular field of view of 6°.
 Highlighted Features 
Easy to use: These binoculars can be used easily by any type of person with its simple non-complex system.
BinoX-HD: Binox HD glass lens is used for high-resolution images with perfect color and high brightness.
Wide range of view: Wide range of view of these binoculars enable them to get images of distant objects with clarity.
Advanced image processing: these binoculars have advanced image processing capacity. 1920×1080 full HD images and videos can be streamed with the utmost ease.
Rubber body: Rubberized body gives a non-slip grip and soft touch to the user.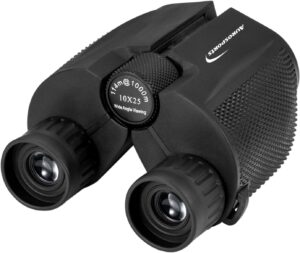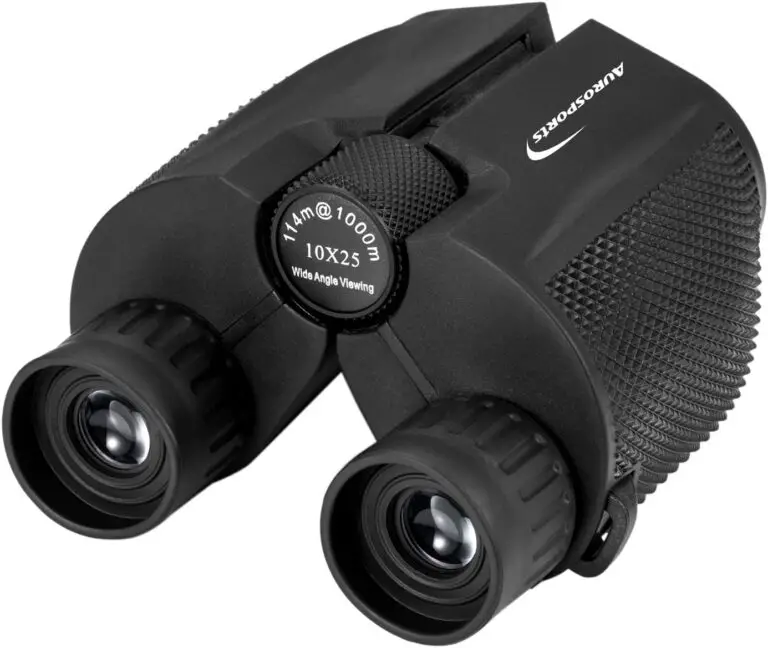 Autosports is lightweight and in such a small size that it can be pocketed and carried anywhere conveniently. It is much simpler and easy in focusing and most suitable for watching birds, outdoor games, or shows in days as well as in low light during the night time. Its magnification is 10x with an objective lens diameter of 25mm.
It is waterproof and sustainable so extremely safe to use and can easily focus on the target through a distance of 1000 yards. In short, it has every specification one would want it to have. It can be used by both the adults and the kids as well. It is most fit to use for hunting, watching the birds in the skies, viewing and exploring things, and watching outdoor sports from a distance. Also, there are many other  compact binoculars for hunting specifically to hunt in daylight.
 Highlighted Features 
Rubber Body: Rubberized body of these binoculars gives a soft, non-slip grip to the user.
Lightweight: The compact size and light material used in these binoculars make them easy to hold lightweight binoculars.
HD quality: High-quality glass optics used in these binoculars ensure HD quality images.
Easy to use: The simple and non-complex system of these binoculars make them easy to use for a person of any age or expertise.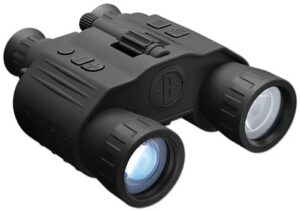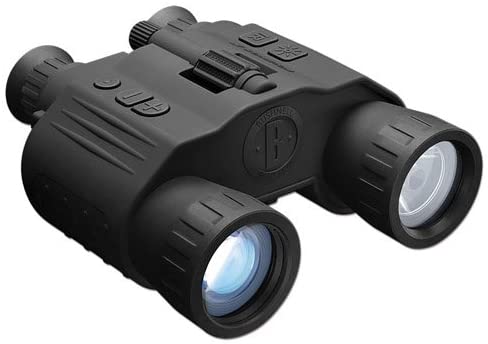 This binocular has the best clarity and can be operated with much ease as compared to any other night vision device. It is best suitable for any outdoor adventure. It has a sensor of 640×480 CMOS for digital night vision. It includes the features of zooming, capturing the image, and recording the video during the night time as well as the daytime.
It has the capability of storing these images and videos in an external microSD memory card with up to 32GB storage. Also, it has a mini-USB that authorizes it to be connected to the computer to record the videos on external devices. Its multi-coated optical system can give a brilliant 4x magnification. It's one important feature is its long battery life. It has outstanding clarity and an ergonomic body that can be mounted on a tripod.
 Highlighted Features 
Center focusing wheel: Fast focusing can be done by the center focusing wheel.
Focusable eyepieces: Distant objects can be focused easily with focusable eyepieces.
Compact and ergonomic body design: These binoculars come with a compact size and perfect ergonomic body design.
Weather-resistant: Excellent body gives water and fog resistance to the binoculars.
Mountable on tripods: These binoculars can be easily mounted on tripods making them great to use for hunting or wildlife observation.
Tips for Night Vision Binos
The night vision binoculars have a different price range for different quality images. Binoculars with high-quality images tend to cost more. So first of all know your needs and then select a good pair of night vision binoculars.
For hunting purposes, binoculars with rugged protection are considered ideal. So go for these ones.
For usual wildlife observation activity, ordinary binoculars of low price will do the job.
Some FAQs
Questions you Might Have
What are night vision binoculars?
Night vision binoculars are those binoculars that are used in low-light conditions to see the distant objects clearly.
Are night vision binoculars good for hunting?
Yes, some binoculars are specially designed for hunting at night.
Are night vision binoculars rechargeable?
Yes, some night vision binoculars use rechargeable batteries with a low to high range of battery life.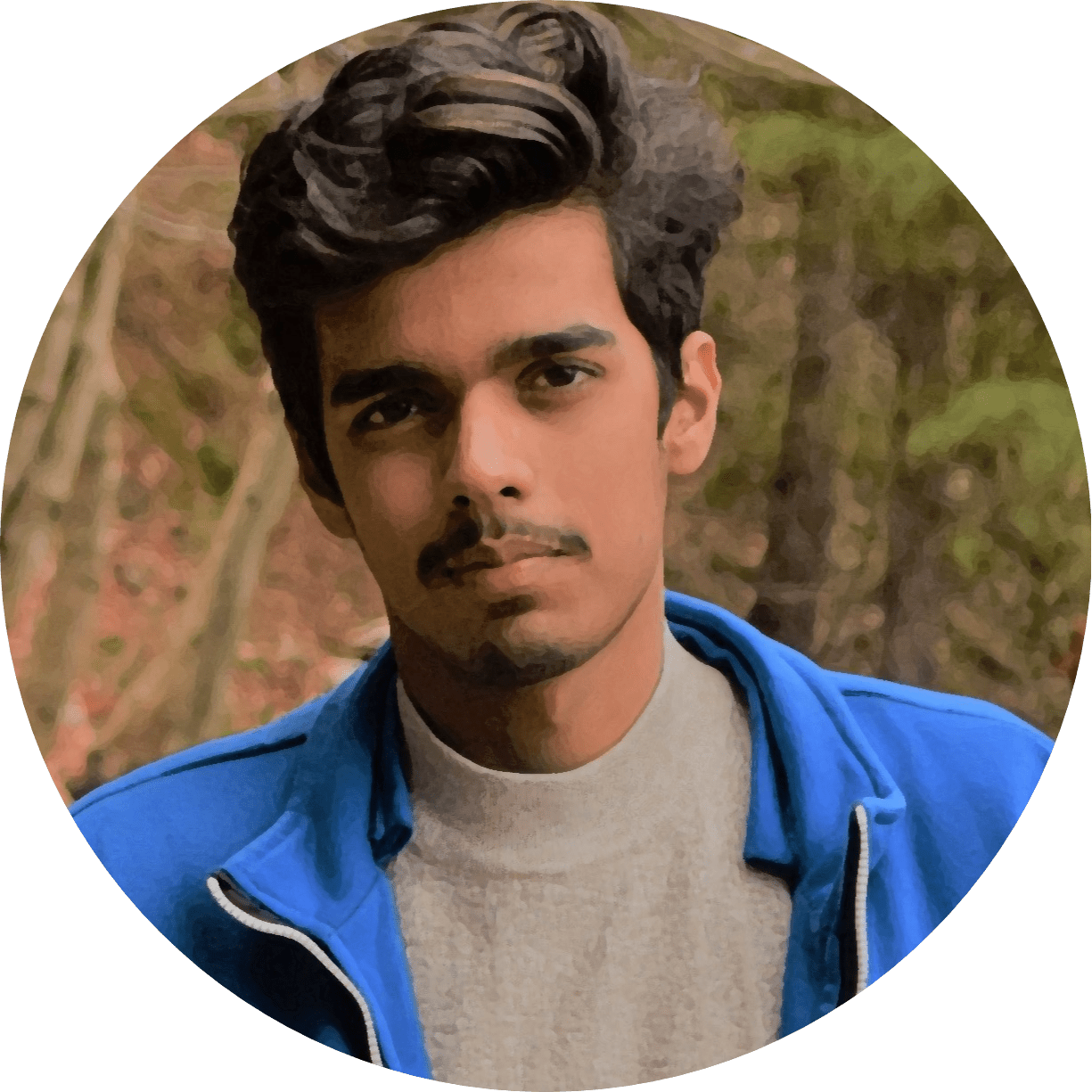 A Binoculars enthusiast, who love exploring skies and watching birds. It is my hobby to collect Binoculars of different kinds and try to explore the world through various lenses. This is all I do to explore happiness by magnifying my beautiful world.